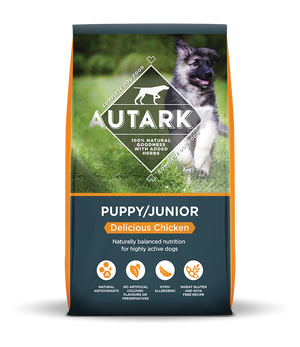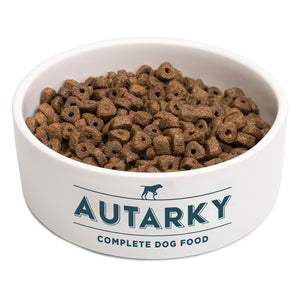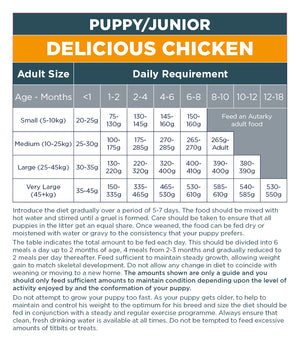 Puppy/Junior: Delicious Chicken
Regular price
£11.99
Sale price
£6.75
Give your pup the best start in life with a wheat-gluten and soya free formulation containing only natural ingredients, giving the correct balance of minerals, energy, protein and trace nutrients to support growth and development.
Puppy/Junior: Delicious Chicken is high in chicken to provide high-quality protein and a balanced supply of moderate energy levels to encourage steady growth. Vitamin E, fatty acids and taurine are included to help support neural development and learning, whilst antioxidants, prebiotics and added herbs protect a dog's immune system and promotes digestive health.
The recipe also benefits from the addition of yucca schidigera for additional digestive support and less pungent-smelling stool.
For more information on the product, please review the product datasheet.
Benefits
Supports neural development and learning
Balanced-energy levels to encourage steady growth
Natural antioxidants to support immune system
Prebiotics promote digestive health
Smaller kibbles for smaller mouths
Provides essential fatty acids to support skin and coat health
Ingredients
Poultry meal (min 34% chicken), Maize, Chicken fat, Rice (min 5%), Chicken liver, Linseed, Alfalfa, Maize gluten, Yeast (source of mannan oligosaccharides), Peas, Carrot, Seaweed, Tomato, Milk thistle, Yucca schidigera, Marigold, Nettle, Mint, Rosemary, Blackcurrant, Pomegranate, Rosehip, Spinach, Beetroot, Fenugreek, Thyme, Carob pod meal, Aniseed, Turmeric, Dandelion, Ginger, Oregano (min 0.4% herbs and 4% vegetables)
Analytical Constituents
Protein 28.0%, Oil 16.0%, Fibre 3.0%, Ash 6.5%, Omega 3 0.9%, Omega 6 3.5%
Feeding Guidelines
| Age-Months | Small (5-10kg) | Medium (10-25kg) | Large (25-45kg) | Very Large (45kg+) |
| --- | --- | --- | --- | --- |
| | 20-25g | 25-30g | 30-35g | 35-45g |
| | 75-130g | 100-175g | 130-220g | 150-335g |
| | 130-145g | 175-285g | 220-320g | 335-465g |
| | 145-160g | 270-285g | 320-400g | 465-530g |
| | 150-160g | 265-270g | 400-410g | 530-610g |
| | Autarky Adult | 265g-Adult | 390-400g | 585-610g |
| | Autarky Adult | Autarky Adult | 380-390g | 540-585g |
| | Autarky Adult | Autarky Adult | Autarky Adult | 530-550g |
Introduce the diet gradually over a period of 5-7 days. The food should be mixed with hot water and stirred until a gruel is formed. Care should be taken to ensure that all puppies in the litter get an equal share. Once weaned, the food can be fed dry or moistened with water or gravy to the consistency that your puppy prefers. The table indicates the total amount to be fed each day. This should be divided into 6 meals a day up to 2 months of age, 4 meals from 2-3 months and gradually reduced to 2 meals per day thereafter. Feed sufficient to maintain steady growth, allowing weight gain to match skeletal development. Do not allow any change in diet to coincide with weaning or moving to a new home. The amounts shown are only a guide and you should only feed sufficient amounts to maintain condition depending upon the level of activity enjoyed by and the conformation of your puppy. Do not attempt to grow your puppy too fast. As your puppy gets older, to help to maintain and control his weight to the optimum for his breed and size the diet should be fed in conjunction with a steady and regular exercise programme. Always ensure that clean, fresh drinking water is available at all times. Do not be tempted to feed excessive amounts of titbits or treats.
Stockists
Our products are available from over 500 shops around the country. Find your closest physical store.
BROWSE STOCKISTS